Mount Bromo
The journey to Bromo is an adventure. Mount Bromo is one of Indonesia's many active volcanoes.
We will depart Denpasar aboard our luxury coach to Probolinggo before transferring to a jeep to finish your day's journey to your hotel for the night. In the morning you will be awaken before 4 am to begin a spectacular journey across the sand sea on foot or by horse. Experience the hike yourself or negotiate to hire a local "pony" to climb up the 245 steps to the rim, also called "the stairway to heaven" to look into the bottom of the crater. We will remain here for a two-night stay. Hotel & breakfast are included.
Please enquire about this tour or allow us to arrange a custom trip for you.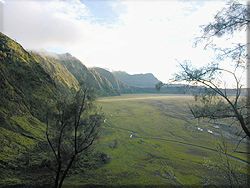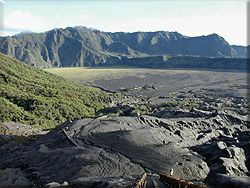 View a QuickTime VR Panoramic Movie Hiking up Mount Bromo
Viewing the movie requires QuickTime VR plug-in available for download from the Apple web site.
---
ABOUT INDONESIA
GETTING THERE
ADVENTURE PACKAGES
ACTIVITIES & ATTRACTIONS
CONTACT US
IndonesiaPromo.com
1304 S. Winchester Blvd, #361, San Jose, CA 95128 USA
Phone (408) 261-6898, Fax (408) 284-7486
Email Us
©2003 Website Design by Under Watercolours