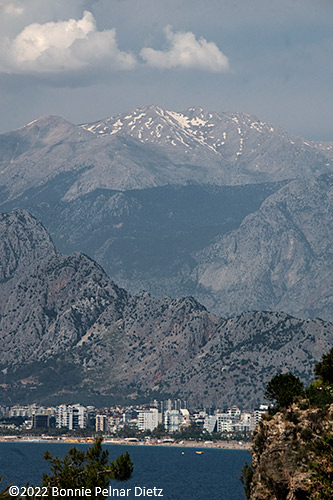 Turkey has much to offer for travelers looking for something new and within a very reasonable travel budget. Each region of Turkey offers something different from amazing mountain backdrops, hand-forged cave churches and towering fairy chimneys in Cappadocia, harbor towns on the turquoise cost of the Mediterranean Sea, Roman ruins, tiny hillside villages, and some of the world's more spectacular mosques and minarets.
Even if shopping is not high on your list you'll enjoy the activity of the Spice Market and Grand Bizarre in Istanbul. There are leather outlet stores in Kuşadası, silk carpet factories near Cappadocia, pottery studios, and quaint mountain and seaside villages that are full of artist who are selling their creations. You will have the opportunity to buy arts, crafts, and hand-made goods that you will find nowhere else.
You will immediately feel the warm hospitality of the Turkish people. Travelers are welcomed with open arms by locals, who are passionate about the land they call home. They are happy to share their delicious home-baked pastries and a Turkish coffee.
The food is fantastic too! Turkish cusine is commonly referred to as Mediterranean, which includes cheeses, soups, breads, lentils, kebab-style meat dishes, vegetarian items like the stuffed vegetables known as dolma. Sweets include pastries such as baklava, which comes in many varieties. Fish is a staple in the coastal regions. While Turkish cuisine varies widely from region to region some foods, like yogurt, are common to all. You'll have the chance to enjoy Turkish coffee, prepared by boiling finely powdered roast coffee beans in a pot, then served in a small cup in which the dregs settle. This method of preparation has been used since the Ottoman Empire. Some believe that the patterns left by the dregs that settle to the bottom of your cup can predict your future.
Turkey covers 774,815 square km, which makes it one of the biggest countries in Europe and the Middle East. It is slightly larger than the state of Texas. Turkey shares borders with Greece and Bulgaria on the northwest, Iran and Irak on the southeast, Armenia and Georgia on the northeast, and Syria on the south. To the north is the Black Sea and the Mediterranean Sea is to the south.
Be sure to follow the links to the many destinations we offer in this lovely country. Whether your visit to Turkey is a short stopover or a full tour, we will show you the best options for your visit.