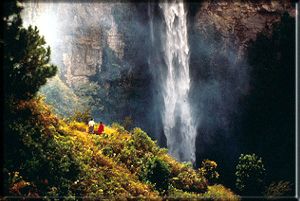 The best way to explore and appreciate the rich geographical and cultural diversity of Indonesia is to set out on foot: to hike, to trek or to climb into the fascinating environments and beautiful countryside of this diverse, exotic land.
If you intend to really immerse yourself in unique Indonesian trekking experiences, you have four main options: hiking up live volcanoes; climbing mountains; exploring remote cultures; or tracking through jungles. Note that the hikes and treks described here are just a few examples of what's available - there are countless others, less well-known but just as remarkable in their way.
FIRE MOUNTAINS
If you want to add that extra edge of excitement to your trekking activities, climbing up a live volcano is the way to do it - and, with around 120 volcanoes still active in Indonesia, there's no shortage of choice. Nothing quite matches the feeling of standing on a mountain that's grumbling, puffing, steaming and spewing ash. Volcanoes, like human beings, are complex and unpredictable and when you enter their majestic presence, it's easy to understand why they have such cultural significance and are revered as gods.
West Java
The dramatic history of Krakatoa's destructive eruptions, explosions, subsidence into the ocean and re-emergence as "Anak Krakatoa" makes it a popular "must-see" volcano. It takes about 4-5 hours by boat to cross the Sunda Strait to this self-contained island-volcano, and only 30 minutes to reach the crater summit. This hike takes you through thick vegetation and up barren slopes until you're looking down into the depression occupied by the active cone. From the crater rim where the heat penetrates your shoes, you can look around and see the remains of islands, which were devastated by an explosion rated one of the most powerful in recorded history.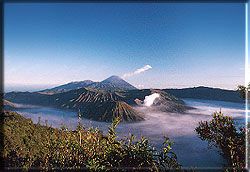 East Java
Perhaps one of Indonesia's most famous destinations is Mount Bromo, an active 2392m high volcano situated southeast of Surabaya in East Java. More people climb Mount Bromo than any other fire mountain in Indonesia. Bromo itself is in fact a crater within another gigantic crater, 10km across and rimmed with sheer 350m high walls. Bromo and two companion cones rise like islands out of the barren sandy expanse of the caldera, which is a center of worship for the local Tenggerese villagers. The surrounding Tengger Highlands are a scenic wonderland of puffing volcanic cones, deep canyons, ice-cold lakes, waterfalls, caves and alpine forests.
A trip to Bromo involves a 3 hour drive from the city of Surabaya through the villages of East Java up the mountain to one of several hotels on top of the mountain ridge.
Kawah Ijen is one of Indonesia's most scenic active volcanoes. It sits inside the 2400m high summit of Gunung Ijen, which rises above a highland plateau at the far-eastern tip of Java. The whole plateau is a fairy-tale landscape of cool grassy fields and soaring peaks. When you climb to the edge of the Kawah Ijen crater you look down on spectacular views of a turquoise-blue lake streaked by wisps of sulfur vapor.
For the more cautious hikers and climbers, there are plenty of reassuringly dormant mountain volcanoes to explore. These peaks not only provide challenging climbs, and rich, varied hiking environments, but also offer unforgettable panoramic views across the countryside.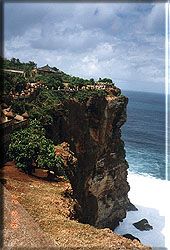 Bali
Gunung Agung, known to the Balinese as the "Navel of the World", totally dominates the island of Bali with both its 3014m physical stature and its spiritual significance. This exhilarating two-day return climb is not for the faint-hearted and is best attempted with a guide. It takes you through thick vegetation and volcanic debris before bringing you to an icy summit ridge, from where you enjoy some awesome views.
Lombok
Gunung Rinjani, which at 3726m towers over the island of Lombok, is the fourth-highest mountain in Indonesia. This peak is renowned and revered for its mystical powers and great beauty. The strenuous three-day round-trip to the top involves negotiating some difficult terrain, but it's well worth the effort. The views of Lombok and across to Bali are breathtaking, and the stunning green caldera lake and hot springs just below the summit make for one of the most idyllic camping grounds you'll find anywhere in Indonesia.
East Nusa Tenggara
A climb up the extinct volcano of Keli Mutu on the island of Flores offers one of the most other worldly sights in all of Indonesia. There are three lakes on top which are continually changing color from black to green, and maroon to turquoise as they leach minerals from the surrounding earth. The 3-4 hour climb up the 1613m mountain is not difficult, and many people attempt it in the dark to enjoy the spectacular views and colors at dawn. As the sun rises, piercing mist and clouds, a breath-taking panorama is revealed, with the three crater lakes at your feet.
UNITY IN DIVERSITY - CULTURAL EXPLORATIONS
With a rich history that stretches back to ancient times, plus 336 different ethnic groups, everywhere you go in Indonesia offers extraordinary cultural experiences. Hiking into out-of-the-way areas is one of the best ways to really encounter these living yet historic cultures, and you will often feel as if you're on a journey through time.
Sulawesi
The Mamasa-Bittuang trek in Tana Toraja, South Sulawesi, offers a striking landscape of mountains, jungle and beautiful farmlands, and a window into the mystical culture of the Toraja people. Their unique and most complex architecture, most notably the buffalo-shaped houses, sophisticated craftsmanship, and intricate tribal rites and ceremonies draw visitors from all over the world.
Central Java
In Central Java, the huge, volcanically active Dieng Plateau - which is itself the marshy caldera of an ancient collapsed volcano offers spectacular landscapes and an encounter with some of the country's oldest architectural relics. Many days can be spent hiking around the area exploring mineral lakes, steaming craters and picturesque mountain villages, but the highlight is undoubtedly the ruins of several seventh century Hindu temples, thought to be the remains of a once flourishing religious center.
TREKKING THE MIGHTY JUNGLES
If you've ever wanted to experience the deep, strange world of the rainforest, Indonesia is one of the best countries to do it. The jungles here are the oldest in the world; vast tracts are still untouched; the biodiversity is mind-boggling; and in isolated Irian Jaya local people have changed little since the Stone Age.
Irian Jaya
The week long trek to Lake Habbema in the highlands of remote Irian Jaya takes you through villages, streams, gardens and steep rainforest slopes to mossy sub-montane and montane forests. The lake sits 3000m above sea level in a broad alpine marsh - a spongy expanse of mosses, tea-brown streams and strange vegetation. Behind it looms the spectacular sight of Irian Jaya's second-highest mountain, Gunung Trikora.
Kalimantan
The Muller Mountain trail in Kalimantan follows the traditional route used by the native Iban people to cross the island. It cuts right through the heart of the jungle. The trail is very hilly and crosses many rivers, but exhaustion and wet feet are more than compensated for by the beauty of the virgin jungle and the sighting of many strange jungle animals and birds.
Sumatra
The Bukit Barisan Salatan National Park in Sumatra is a remote and beautiful peninsula, which offers hikers a chance to see some of Indonesia's incredible wildlife, including Sumatran elephants, barking deer and apes. The trek cuts through dense tropical jungle and mangrove and finally opens out on to a pristine beach famous for its breeding turtles.