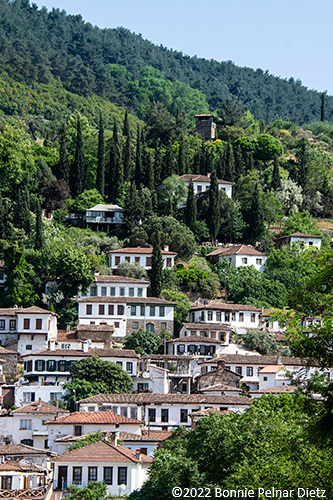 The coastal resort town of Kusadasi is located on Turkey's western Aegean coast and is Turkey's busiest cruise port and the coastal gateway to Ephesus. When visiting Ephesus you'll want to overnight here at one of the many nice hotels.
The seafront promenade is a great place to hang out, take pictures of the gorgeous scenery, or check out the local beaches and vibrant nightlife. It has many popular attractions, including Ladies Beach, Pigeon Island, and Priene, so you'll want to stay here long enough to take in all the culture, cuisine, and history.
Here you'll also find phenomenal cuisine featuring fresh seafood and local olive oil.

Sirince Village
Not far from Kusadasi and Ephesus is the mountain village of Sirince, a cute settlement surrounded by olive, peach, and tangerine trees. Sirince means "pretty" in Turkish and this mountaintop village is famous for its perfectly preserved 18th-century Ottoman houses. Today many serve as boutique hotels, restaurants, and coffee shops. The village is also famous for its panoramic views, wine cellars, leather goods, hand-made clothing, and souvenirs. This is a great place to stroll around the quaint, exclectic streets and stop for lunch and a glass of wine.