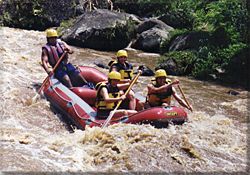 In the past Indonesia's rivers have sustained wildlife, nurtured small communities that cluster on their banks, and transported travelers. It's only in recent years that their great potential for high-adrenaline recreational enjoyment - in the form of white-water rafting and kayaking - has been utilized. Whether you're after a few hours of action in Bali or Java, or a multi-day expedition in Sumatra or Sulawesi, there's enough to satisfy any white-water enthusiast's appetite.
Bali
The most high-profile operations are in Bali, where several rivers - the Ayung, Unda, Ubaya, Balian and Telaga - are commercially rafted. White-water rafting here is usually more of an environmental and cultural experience than an adrenaline-charged adventure. A trip down the Ayung, for example, takes you through deep valleys, terraced rice fields and finally into thick, tropical rainforest. On the way you can observe how rural Balinese life revolves around the river. With water channeled off to irrigate rice crops, and villagers gathering at the banks to bath and wash clothes. Graded 2-3 the Ayung River is frisky enough to be fun but not so much as to be dangerous.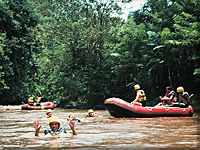 There are times after heavy rains, when the excitement level on Balinese rivers definitely hits the redline. The fast-flowing Balian River (grade 2-3 in the dry season) is transformed into a thrashing grade 4-5 roller coaster when the river's running high. The upper section is particularly wild, with superb cascading rapids and wave trains. Huge boulders are scattered across the river bed, rolled down by torrential waters. The size of these boulders means there are excellent rapids when the river is in full flood, but they will also seriously impede your raft's progress when the water level is low.
Sulawesi
For a longer and more intense river experience, try the multi-day expeditions on the grade 3-4 Sadan River in Sulawesi. Although the river is navigable most of the year, conditions are best between November and March, when rapids build and flow on for as long as 2km. The pristine forest surroundings are spectacular and its common to see giant lizards and other exotic wildlife.
West Java
The Citarik River which is conveniently situated an hour away from Bandung and a short drive from Jakarta, offers a gentle I6 km run through volcanic gorges and jungle, and is an excellent introduction to kayaking. The river is fed by a spring that runs down from Mount Halimun, so it flows all year round with clear water. The best time for adrenaline-thrills is during the rainy season, October to April. The biggest rapid, Cibaregbeg, can definitely push your pulse rate up in a big flow.
Sumatra
Sumatra has a classic white-water river: the Alas. it rises in the highlands and plunges 300km through Gunung Leuser National Park - the largest national park in Southeast Asia cutting across primary rainforest and deep gorges until it finally exits into the Indian Ocean. The grade 3-4 rapids are excellent, but the real attraction is the incredibly rich and diverse wildlife, including orangutans, monkeys, lemurs and many other primates.